Hey families! Our school is hosting NED's Kindness Adventure, a live streaming, all school event! The performance will inspire your child to be kind-hearted and caring through storytelling, music and an interactive video of NED's trip to Kenya. April 23@1:00 Sales dates: April 26th-30th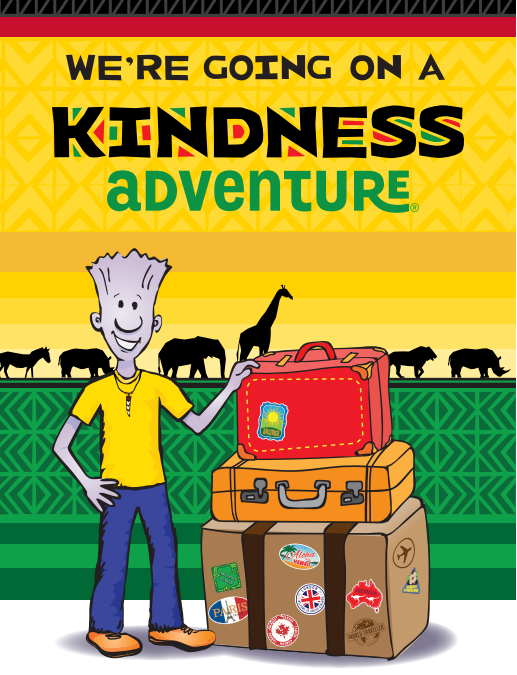 Family Literacy Night Art Kits are ready for pick up! Remember, these are FREE to everyone who pre-ordered and parents MUST pick up in the office by Friday between the hours of 8am-4pm. Extras are available while supplies last!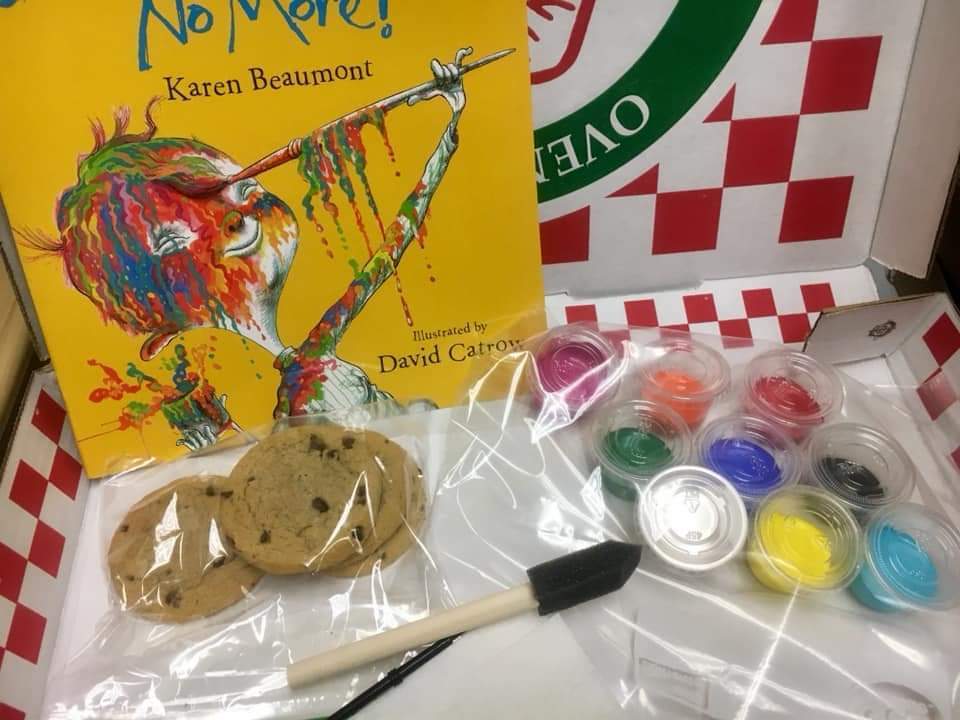 Logansport Soccer Club Spring 2021 Registration. Questions should be directed to Christina Albaugh at (574) 721-2863 or Mauro Picardo (espanol) at 574-702-5531.

March Lunch Menu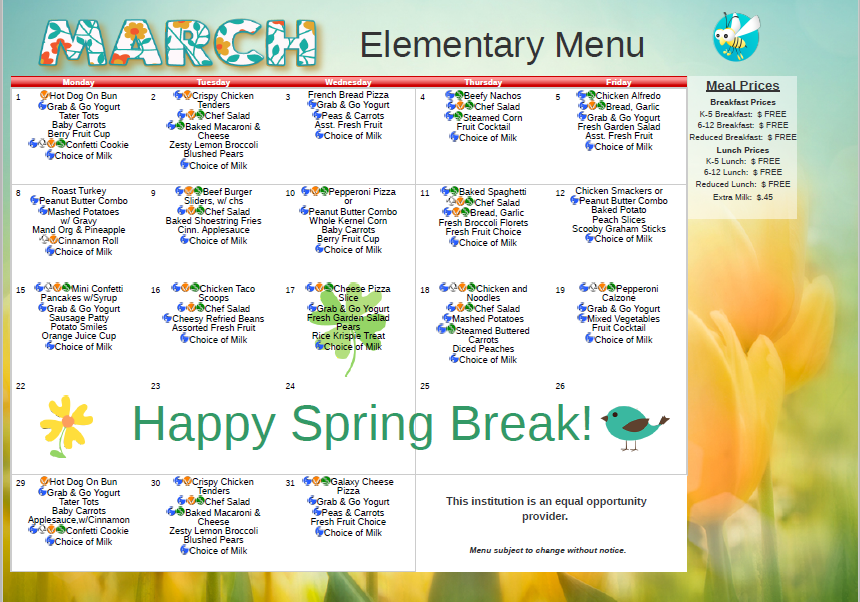 Disability Awareness Week March 15-19th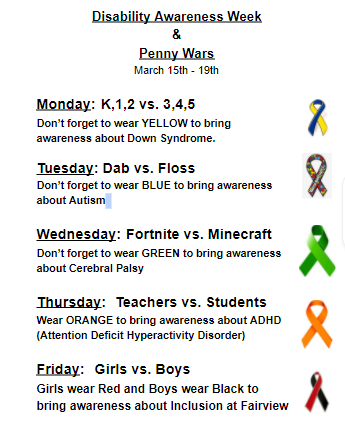 Dr. Seuss Celebration / Scholarship Week -MARCH 1st-5th **Celebración de Dr.Seuss / Semana de Becas MARZO 1-5** All funds raised during this week will go towards a Fairview scholarship for seniors that attended Fairview Elementary! **Todos los fondos recaudados durante esta semana irá hacia la beca Fairview para los del grado 12 que atendieron Fairview Elementary!**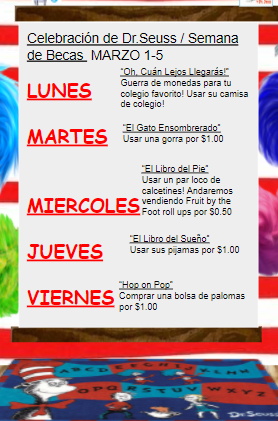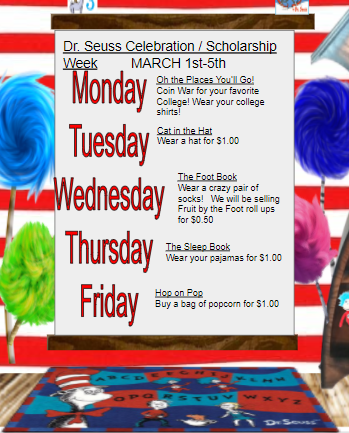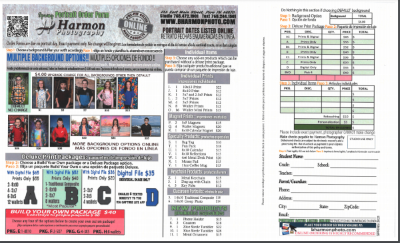 Felix's Pantry will be on site at the following locations with 100 food bags available for any LCSC Student and their families. Families are welcome to visit any of the mobile food sites regardless of which school your child attends. February 25- Fairview Elementary School March 4- Franklin Elementary School March 18- Columbia Elementary School April 1- Logansport High School Bags will be available from 4:30pm - 6:30 pm or until they are gone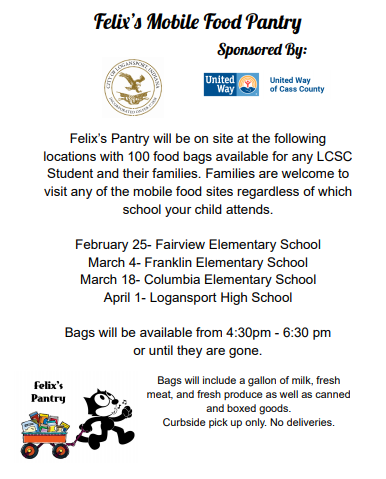 Due to current weather conditions, all LCSC Schools will be closed today, January 26, 2021. All students will participate in eLearning today.

Due to current weather conditions, all LCSC Schools will be closed today, December 16, 2020. All students will participate in eLearning today.

Due to current weather conditions, LCSC will be on a two hour delay for today, 12/16/2020.
Purdue Extension is hosting a Day in Space! Learn more about how to participate here:
https://5il.co/ly0g

Friday, Oct. 16 is our deadline for Laptop Protection Plans. Parents, feel free to pay when you come for Parent Teacher Conferences and/or send your filled out form along with your payment with your child. El viernes 16 de octubre es nuestra fecha límite para los planes de protección de computadoras. Padres, tambien pueden pagar en las conferencias de padres y maestros y/o envíen su formulario lleno junto con su pago con su hijo/a.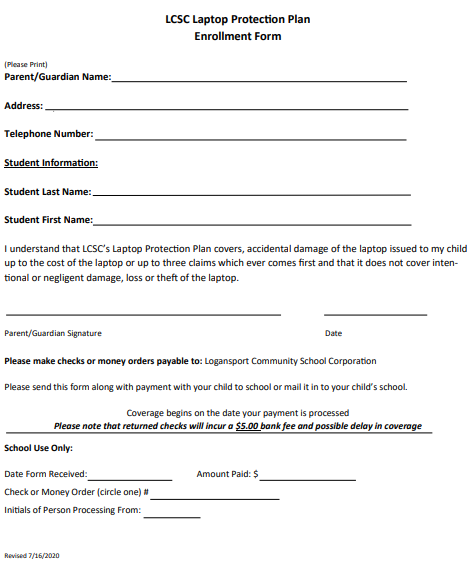 Berry Spirit Week September 28th-October 2nd!! Monday- Dress like royalty Tuesday-Wear your pajamas OR sweatpants Wednesday- Dress like a cowboy or cowgirl Thursday- Dress like you are from the 80's Friday-Wear your red and black berries gear!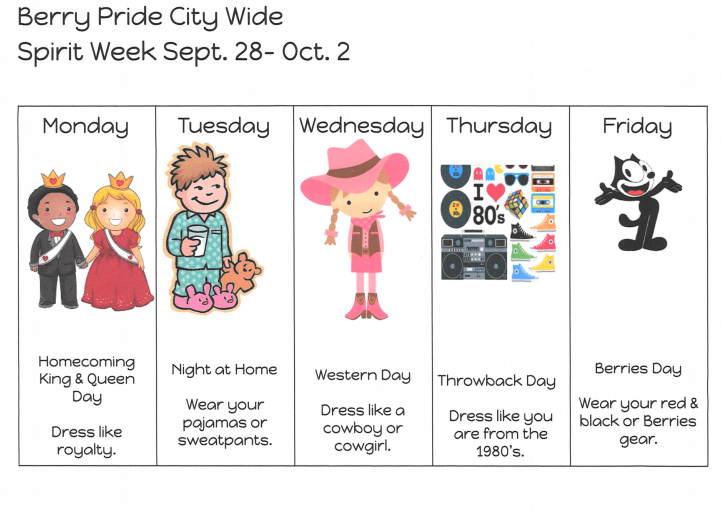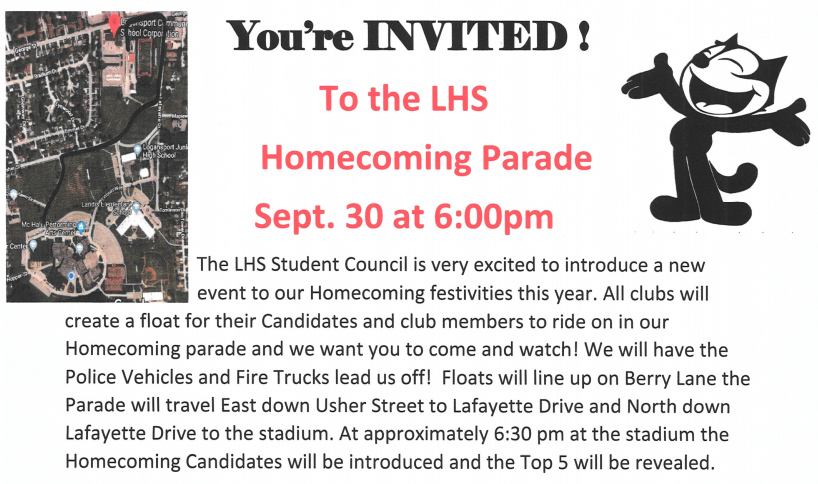 Logansport Basketball Camp Registration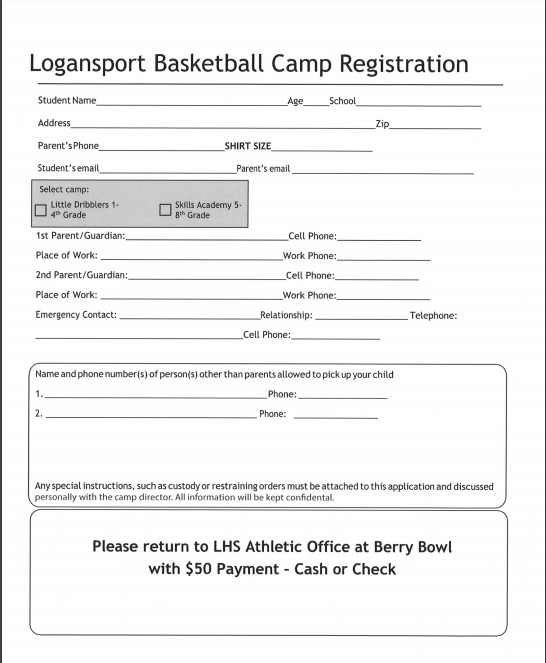 El día de fotos escolares es el viernes 4 de septiembre. Tenga en cuenta que durante las fotos de otoño solo haremos fotografías individuales para estudiantes. No tomaremos fotos de clase en este momento. Una foto de clase se tomará más adelante en el año. Para aquellos estudiantes que no están presentes en el día de la imagen, vamos a tener un día de retoma de la imagen y también fotos de primavera más tarde en el año para obtener sus fotografías. Los formularios de orden de las imágenes se enviaron a casa con los estudiantes hacia el final de la semana pasada. Puede pedir fotos en línea a través del sitio web.
www.bharmonphoto.com
o entregar dinero y el formulario de pedido al maestro de su hijo o hija. Si su hijo/a está participando en el aprendizaje remoto, queremos asegurarnos de que no se pierdan las fotos de la escuela de otoño. Los estudiantes de aprendizaje remoto tienen dos opciones. Los padres pueden llevarlos a Fairview el día de las fotos de la escuela, el 4 de septiembre, a las 8:00 a.m. para tomarse una foto. O los padres pueden llamar a nuestra compañía de fotografía al 765.472.1901, para concertar una cita para llevar a su estudiante a Harmon Photography, en 288 East Main Street en Perú, Indiana. Si usted tiene alguna pregunta por favor no dude en llamarnos al 574-722-5288. Gracias!

Fairview Elementary School picture day is on Friday, September 4th. Please note that during Fall pictures we will only be doing individual student photographs. We will not be taking class photos at this time. A class photo will be taken later in the year. For those students who are not present on picture day, we will have a picture retake day and also Spring pictures later in the year to get their photographs. Picture order forms were sent home with students towards the end of last week. You may order pictures online using the website,
www.bharmonphoto.com
or turn in money and the order form to your child's teacher. If your child is participating in remote learning, we want to make sure they do not miss out on Fall school pictures. Remote learning students have two options. Parents may bring them to Fairview the day of school pictures, September 4th, at 8:00am to get their picture taken. Or parents may call our photography company at 765.472.1901, to set up an appointment to take their student to Harmon Photography, at 288 East Main Street in Peru, Indiana. If you have any questions please feel free to contact us at 574.722.5288. Thank you!

Parents Please check out our important Parent Screenings. You can also find it under News for Parents. Padres Por favor revise la inforacion importante ascerca de las Pruebas de Detección. Tambien puede encontrar la inforacion bajo Noticias para padres.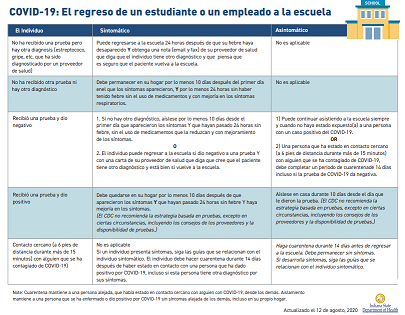 Fairview Elementary School has scheduled a second chance Meet And Greet for your Kindergarten student to come and meet his or her teacher, drop off their supplies, and see their classroom. Kindergarten teachers will be available on Monday, Aug. 17 from 3-4. If you plan on coming, enter through Taft Street doors, and only 1 adult is permitted with the student and masks are required. This will be very helpful for your child so they know where their classroom is and they have already met their teacher before the first day of school. If you have any questions, please call Fairview. Thank you!

Parents, please check out our VERY IMPORTANT information under NEWS section titled, " Fairview Important Parent Letter 20-21"